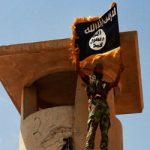 The U.S. Military is helping ISIL in Afghanistan
Posted On:
In the name of Allah, the Merciful to all, the Compassionate
It's an open secret that the United States has no more a justification to occupy Afghanistan. Sixteen years ago the U.S. invaded the country and decided to eliminate the ruling Taliban. Since then, the U.S. military is occupying that country, and there is no clear indication that they can achieve their initial goal. The Taliban are part of Afghanistan, and a significant segment of the population supports them. Some 60% of the country is now more or less back under Taliban control.
It seems there are so many things at stake for the U.S. military that they are not going to leave the country. With their blessings, ISIL (Daesh) is rising in Afghanistan, just to give the U.S. one more pretext to prolong its military presence over there. Haji Zahir Qadir, a member of Afghan parliament, recently expressed that:
Daesh fighters have captured around 90 percent of Chaparhar, 80 percent of Tora Bora, they have plan for Khogiani, Hesarak and Azra in order to cut Kabul-Jalalabad highway,

I have eye witnesses that three days ago, a container full of weapons transferred to Daesh in Narai Obo area of Nangarhar.
Moreover, he stated that:
Few days ago, Helicopter has deployed 50 Daesh fighters in Badabad area in Behsood district, so we are worried that who are they that are killing us and beheading us. Whether they are American, government, or Daesh? If it is Daesh then who supports it?
Opium Trade is what the U.S. Military wants to secure
In 2000, Taliban leader Mullah Mohammed Omar, started one of the world's most successful anti-drug campaigns, which resulted to 99% reduction in the area of opium poppy farming in Taliban-controlled areas. Some argue that this campaign was the real cause of invasion of Afghanistan, by the U.S.. Now, according to Wikipedia, around 200,000 hectares are under poppy cultivation, and opium trade is as good as it was before Taliban.
MOAB Bomb: A Show of force to China and Russia
It was in the news that MOAB, the biggest bomb in the U.S. military arsenal, used in Achin district of Nangarhar, to eliminate Daesh. But contrary to what they claim, Daesh is not supposed to go away. It's going to increase its presence to provide a justification for the U.S. military to stay. Their presence gives them an opportunity to surround China and Russia, and have an upper hand in future power struggles with them.