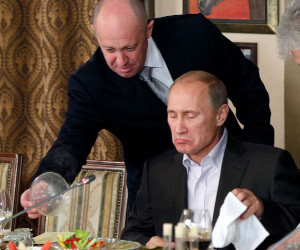 By: Joaquin Flores
Russia's large-scale drill and psychological operation yesterday was targeted at the western media, and was mostly successful. It may have saved the world. Also, "Prigozhin" does not exist. 
Move on from the counteroffensive without escalation: It has given the western information war a much needed distraction, and allowed Russia to conduct additional internal political and military movement operations while giving the western media something to cheer about. 
The desirable distraction was from the Ukrainian 'counteroffensive' which the press needed to cover intensely once it was announced, but then had no way of walking back. 
A general 'drying up' of relevant op-eds and columns on the counteroffensive was observed, and the shift to talks of 'provocations' and 'sanctions' after about June 18th. 
The temperature in the west was rising, as the news cycle was itself becoming a highly caustic catalyst towards more commitments to some kind of dangerous kinetic action from the west - ZPP, dirty bombs, additional sanctions, sending in jets or longer range missiles, and more.