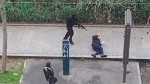 Vindicated: Paris Events Meet the False Flag Checklist
Posted On:
By: Jay
Already numerous patterns I listed in my initial analysis, as well as others consonant with false flags, have made themselves apparent in the Paris shooting and hostage incidents. Also apparent are the predictable results that follow these events. We have seen all of the following:
Mass mainstream media buildup and rollout, with ready-made "placards" to call global attention to event
Questionable videos and details of the event, as well as drills or security buildup prior
Military training for the perpetrators, while the "terror" suspects with deep state connections and rap sheets run free
A false dialectic of left versus radicalism polarizing public consumption of propaganda
Investigators and key individuals in the event end up "suicided"
Media quickly fingers low IQ duped patsies based on magical ID appearance (think 9/11)
More funding for militarization, surveillance and police state with media replaying past terror events ad nauseam
Webster Tarpley explains of the purpose of synthetic terror: "Terrorism thus has been known to provide a means of social control. Parts of the US oligarchy are today almost euphoric about the seemingly endless panorama of possibilities of exploiting terrorism they believe they see before them. But it is now wide to build an entire state and social order on terrorism." (Synthetic Terror, pg. 88)
So, have the recent terror events in Paris met these criteria? Yes, they have.
In the wake of this event, Paris' "9/11″ has resulted in the same response the world saw with 9/11.  We can expect the recruitment of more moron radicals as the "Jihad" is being marketed to a new crop of dupes, hipsters and rappers.  This social engineering and PR selling point of faux anti-establishment is something that smells of being cooked up by Western and intelligence and their think tank overlords like the Rand Corporation, than any real opposition.  In my article from November, I wrote about the fictional Bond villain, SPECTRE, which was known for its international character, playing nation states off against one another in a false dialectic, while simultaneously receiving their funding from global black markets.  Truly fiction models reality, and reality models fiction.