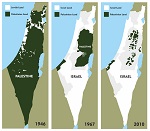 Israel Chemical Warfare in Gaza
Posted On:
Earlier today some of the Arabic Media quoted Dr. Haitham Abu Said, the International Human Rights Commission ambassador to the Middle East,  accusing Israel of using sarin during the initial hours of the ground operation in Gaza. I was not sure if that was credible, because they called him a "UN Official" although he isn't.
But this is what PressTV reported:
The Israeli regime is using a "strange toxic gas" against Palestinians in its offensive against the besieged Gaza Strip, medics say.
On Friday, Ashraf al-Qudra, a spokesperson for the Health Ministry in Gaza, said dozens suffered from suffocation on Thursday.
"Dozens of Palestinians, including children, arrived at hospitals suffering from suffocation after inhaling a white poisonous gas fired by the Israeli army in the northern Gaza Strip and in the Shawkah neighbourhood near Rafah, to the south."
Qudra urged Palestinians of the blockaded sliver "not to panic when they inhale the strange gas, [and] to protect themselves using tarpaulin coats or nylon clothes and to cover the doors, windows, and vents with a moist cloth to prevent air from leaking inside."
Israel's incessant airstrikes and ground invasion have killed nearly 300 Palestinians since Tel Aviv started its latest round of offensive against Gaza on July 8.
The Ezzedine al-Qassam Brigades, the military wing of the Palestinian resistance movement Hamas, has been launching retaliatory attacks against Israel.
[inpost_gallery thumb_width="200" thumb_height="200" post_id="982" thumb_margin_left="0" thumb_margin_bottom="0" thumb_border_radius="2" thumb_shadow="0 1px 4px rgba(0, 0, 0, 0.2)" js_play_delay="3000" id="" random="0" group="0" border="" type="yoxview" show_in_popup="0" album_cover="" album_cover_width="200" album_cover_height="200" popup_width="800" popup_max_height="600" popup_title="Gallery" sc_id="sc1405725767533"]