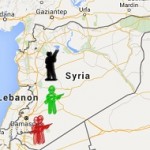 Hezbollah Captured US, French Intelligence Officers in Aleppo
Posted On:
In the name of Allah, the Merciful to all, the Compassionate
Some pieces of news weigh more than others and they could have been placed in more than one category. You just can't miss or ignore them. The capture of US, French intelligence operatives by Hezbollah in Aleppo is a good example, as it has many implications. So I briefly review what happened and what this means:
First
The death of several Iranian advisers in Khan Touman 10 days ago, was not the result of clashes with Al-Nusra terrorists. The senior officers were killed in an air raid by the US planes that took off from Turkey's Incerlik airbase and bombed their operation room in Southern Aleppo.
Second
In retaliation to the Khan Touman attack, Hezbollah special forces conducted an operation is one of the regions controlled by al-Nusrah Front in Aleppo and took captive a senior field commander of the terrorists affiliated to Riyadh and two US and French intelligence officers working in the newly-founded joint operations room of Jeish al-Fatah (a coalition of several terrorist groups). The joint operations room was set up so that the French and US intelligence agents can directly command Jeish al-Fatah terrorist attacks in Aleppo and nearby regions.
Third
The US imagined that the captured spies would be taken to Lebanon and alerted Tel-Aviv to bomb the convoy that was supposedly taking the captive American and French officers, but the convoy that came under the Israeli air-strike was not carrying the captured spies.
Fourth
Then Al-Nusra team tasked with finding senior Hezbollah commanders in Syria to assassinate them. The assassination of Lebanese resistance movement's senior military commander, Mustafah Badreddin, near Damascus military airport last week, was the result of the cooperation of al-Nusrah with western intelligence services.
What does it mean, and what can be expected?
First
Empires using proxies and even manufactured enemies is par for the course. Al-Nusrah is officially an Al-Qaeda branch in Syria. So contrary to what you may hear from mainstream-media in the west, al-Qaeda and CIA are totally in cahoots.
Second
The United States is actively engaged in the Syrian war, by bombing the Iranian operation room in Southern Aleppo. This is kind of a declaration of war.
Third
Iranians have no choice, but to respond to this bombing. So we should expect more news of escalating the situation there, or in the whole region.