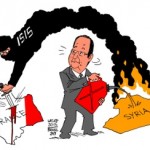 Paris Terrorist Attacks: Chickens Are Coming Home To Roost
Posted On:
In the name of Allah, the Merciful to all, the Compassionate
Yesterday, Friday the 13th, a bloody wave of bombings and shootings happened across Paris that left nearly 130 people dead. Islamic State has claimed responsibility and the French president, François Hollande, denounced as an "act of war" that must be countered "mercilessly".
But who weaponized and financed the Islamic State or prior organizations in Syria and Iraq, so they can carry such attacks?
A few days ago, a video released in which an ISIL convoy was moving from Iraq toward battle fields in Syria. A US Apache helicopter was flying behind the convoy. I'm not sure if the helicopter was providing air support for the convoy. But at least we can conclude the War On Terror is not that serious and there is a sense of coexistence between ISIL and western powers. Also ISIL is able to sell its oil through Turkey, a Nato member, to finance its campaign.
In 2012, The French president has admitted delivering weapons to the Syrian rebels during a period of EU embargo, a new book about to be published in France reveals. In December 2012, France has emerged as the most prominent backer of Syria's armed opposition and is now directly funding rebel groups around Aleppo as part of a new push to oust the embattled Assad regime. Large sums of cash have been delivered by French government proxies across the Turkish border to rebel commanders in the past month, diplomatic sources have confirmed. The money has been used to buy weapons inside Syria and to fund armed operations against loyalist forces. In August 2014, President Francois Hollande said that France had delivered weapons to rebels battling the Syrian regime of Bashar al-Assad "a few months ago."
France always was a sponsor of Terrorist organizations. The leadership of Mek (Mojahedin-e-Khalgh), which assassinated 16000 Iranians civilians in cold blood in 1980s, moved to France to be able to organize and continue their terror raids in Iran. They are still there. If terrorism is bad, it's bad for everyone. There is no good terrorist versus bad terrorist.
Pastor Jeremiah Wright said it right:
America's Chickens Are Coming Home to Roost. Violence begets violence, hatred begets hatred, and terrorism begets terrorism.