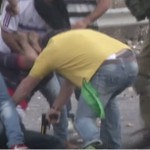 Plainclothes Israeli Soldiers Infiltrate Palestinian demonstration, Shoot Detainee in Leg
Posted On:
Plainclothes Israeli forces infiltrated a group of Palestinians protesters this afternoon near a checkpoint outside of Ramallah in the West Bank and opened fire on the demonstrators, wounding one. Meanwhile uniformed Israeli soldiers wounded two more protesters with live rounds, critically injuring one by firing a shot into the back of the protester's head.
Video of the incident published by journalist Ahmad Jarghoun and AFP (below) reveal eight Israeli security forces dressed as protesters with their faces covered, and one with a Hamas flag. After participating in the protest confronting uniformed soldiers and throwing stones, the undercover forces suddenly drew their weapons against the Palestinian demonstrators. The Israeli forces began backing up towards the Beit El checkpoint and a cluster of army Jeeps. Palestinians sprinted in the opposite direction.
Next a group of five plainclothes are filmed detaining a Palestinian by throwing the youth to the ground, and punching and kicking him. While in custody one of the officers shoots the Palestinian in the leg. He is then dragged away, bleeding from his face, and soldiers detained him for questioning. Later the youth was transferred to an Israeli medical facility.
The other two protesters wounded by Israeli sniper-fire were also brought to an Israeli hospital for treatment.
With Palestinian universities on strike over the recent killings of youths in clashes with Israeli forces, student groups organized a mid-day protest at the Beit El checkpoint, a point of nightly confrontations over the past week. A journalist covering the demonstration told Mondoweiss on the condition of anonymity that around 300 Palestinians participated in the protest with approximately a third of the group throwing stones. Within that smaller group were the undercover officers.
"When I passed by the guys, the infiltrators, I was sure they were Palestinian," said the journalist who overheard the undercover Israeli forces speaking fluent Arabic. "Nobody had a real discussion with them. It was clashes, it was very loud and there were sound grenades everywhere," he said.
What's more, in the hour leading up to the protest, the journalist spotted the undercover agents in front of a grocery store in an upscale Ramallah neighborhood, with faces uncovered, walking towards the demonstration.