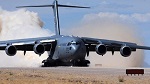 Reports Of Us Airforce Cargo Planes Delivering Arms To ISIL
Posted On:
Source: HispanTV
US has delivered weapons to the terrorist group ISIS (Daesh, in Arabic) in the Iraqi city of Tal Afar, west of the capital of the northwestern province of Nineveh, Mosul, which has become since last June a bastion these takfiri gangs, according to an Iraqi parliamentary.
"Three US aircraft carrying advanced weapons, clothes and food for ISIL, have landed at the airport in Tal Afar," reported Sunday Nahla Al-Hababi, the representative of the Nineveh province in the Iraqi parliament.
Al-Hababi, without specifying exact dates, explained that the landings took place on three separate occasions and have provided terrorists a quantity of arms 'which is sufficient for an army'.
The Iraqi lawmaker noted that military uniforms issued to members of Daesh are very similar to those used by peshmerga (Iraqi Kurdish forces), and possibly will be used in attacks against these fighters.
Earlier, the chairman of the Committee on Security and Defence of the Iraqi Parliament, Hakem al-Zameli, had revealed American planes landing at the airport in Tal Afar to provide weapons to ISIL.
A video released last October 21 showed that ISIL members have taken over some of the weapons and medical equipment thrown by US aircraft for Kurdish forces defending the Syrian city of Kobani that borders Turkey.
Political analysts question the true aims of the new US military intervention in the Middle East under the pretext of fighting Daesh, an extremist group that according to several documents was created and supported by Washington and its Western and regional allies.