Why Western Civilization is Morally Bankrupt: The Story of James Foley
Posted On:
In the name of Allah, the Merciful to all, the Compassionate
If you have ever visited social media sites like Twitter, Facebook, and YouTube over the last year, you have probably seen a lot of beheadings, massacres, burnt bodies, gore, and blood in pictures and videos. A few articles ago, I complained about emails I was receiving from Twitter, reflecting ISIS propaganda.
If someone tortures a cat, films it, and puts it on YouTube; it instantly receives a harsh reaction, and YouTube takes that video down; no matter where that happened. But if a terrorist beheads 100 people in front of camera, none of these social media sites have any problem with it.
Just look at one the Time Magazine Top 10 photos of 2013: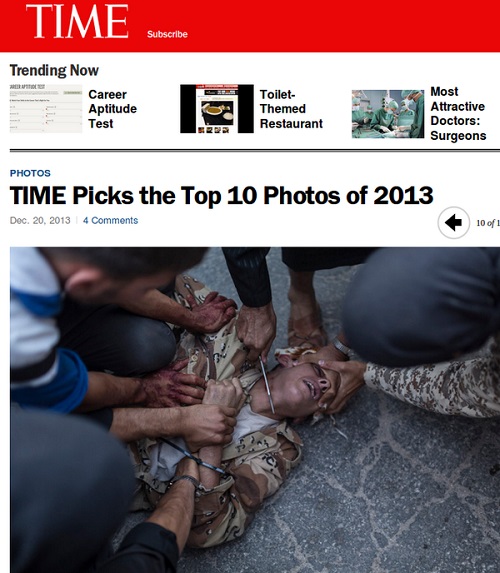 Imagine instead of that young man, they were beheading a dog, and Time Magazine picked that photo as one of their Top 10. What reaction would you expect from people in western countries? I am sure Time would be out of business immediately.
This immorality is not only about governments; the whole society is immoral. If someone tortures a cat, thousands will rise and oppose; if someone beheads or burns an innocent human somewhere else in the world, they shrug it off with apathy; even if they know that cruelty happens with the weapons and funding of their own government.
James Foley's story, which broke out last week sheds more light on this immorality:
First it was claimed that he is a freelance journalist, although evidence shows he was a private military contractor with Blackwater in Iraq and Afghanistan since 2001:
[inpost_fancy thumb_width="200" thumb_height="200" post_id="1110" thumb_margin_left="0" thumb_margin_bottom="0" thumb_border_radius="2" thumb_shadow="0 1px 4px rgba(0, 0, 0, 0.2)" id="" random="0" group="1" border="" show_in_popup="0" album_cover="" album_cover_width="200" album_cover_height="200" popup_width="800" popup_max_height="600" popup_title="Gallery" type="fancy" sc_id="sc1409105811456"]
So being a true journalist is the last thing anyone can think of him, and he would be treated the same as any other foreign military intelligence in a battlefield.
In early April 2011, a few days after the Libya bombing started, James Foley was apprehended on a Libyan battlefield and found himself in a Tripoli jail for 45 days. Qaddafi was neither brave nor intelligent enough, and he thought he could come to terms with invaders. As a result he did not kill this intelligence asset. Everybody saw what happened to Qaddafi, so why would anyone repeat his mistakes?
What the video of his alleged beheading really shows is a British citizen, an MI6 asset, pointing a knife at Foley, a CIA asset, then the beheading scene is skipped and it just shows a severed head on top of his body. This beheading is clearly a staged one. Firstly the James Foley imposter did not behave like someone who expects to be killed. If you see other beheading video clips, you will know what I am talking about. Victims become numb in this situation, but he did not. He was just staring at the camera. Secondly I have never seen a beheading scene in which the victim rants like Foley did.
My conclusion is that video does not prove that James Foley was even murdered. It's just western propaganda.
It cannot be made by ISIS. ISIS is not shy of showing real beheading. They show beheadings to make a point and to scare adversaries. Why should they remove the beheading scene?
It's weird that the alleged Foley siblings were laughing and not shedding a tear in an interview with Katie Couric. Even when the picture frame hung on the wall behind them falls, they show no reaction. It is indeed unnatural. This matter alone proves they are not normal people and they must be coached and trained. Let's put the fact aside that the lady who pose as James' sister was the same Alex Israel of Sandy Hook.
Putting the fakery in this story aside, what happened next is more important.
It sure stirred a reaction from westerners. They showed that they care if a person from their own country gets killed, and they cannot tolerate people watching that on social media. So Twitter suspended all of the accounts which posted something about this beheading. Now anyone found viewing, downloading or disseminating that video risks prosecution for a terrorist offence.
This highlights how hypocritical and immoral the entire western civilization is. They were witnessing real beheadings by these terrorists for years, the same terrorists who Senator McCain visited in Syria, the same terrorist who got weapons and funding from the West. Why was no one rising and no voice to shout about showing so much cruelty in social media and even advertising it, over the years? Or even let Twitter and YouTube be the propaganda hub of these terror organizations for years?
Now U.S. government is using James Foley's alleged murder as a pretext to wage another war and conquer Syria. When western societies did not care how their social media furthered the cause of terrorism, why expect them to care about other civilians who will be killed by their bombs? They are just collateral damage and worth the results.
Conclusion
The essence and foundation of ethics and morality is that you should like for others what you like for yourself; and you should not like for others what you do not like for yourself. The rationality of this is quite obvious:
If you like for others what you do not like for yourself, sooner or later others will return your favor, and you will be in a situation that you do not like. Read that again. Let it sink in.
Immorality of a society is the direct cause of the immorality of their government, and it serves as a medium for waging unjust wars and killing innocent people around the world; and more importantly gives their own leaders a reason to wage false flag terror attacks to justify their cruel policies.
[inpost_fancy thumb_width="150" thumb_height="150" post_id="1110" thumb_margin_left="0" thumb_margin_bottom="0" thumb_border_radius="2" thumb_shadow="0 1px 4px rgba(0, 0, 0, 0.2)" id="" random="0" group="2" border="" show_in_popup="0" album_cover="" album_cover_width="200" album_cover_height="200" popup_width="800" popup_max_height="600" popup_title="Gallery" type="fancy" sc_id="sc1409105865059"]